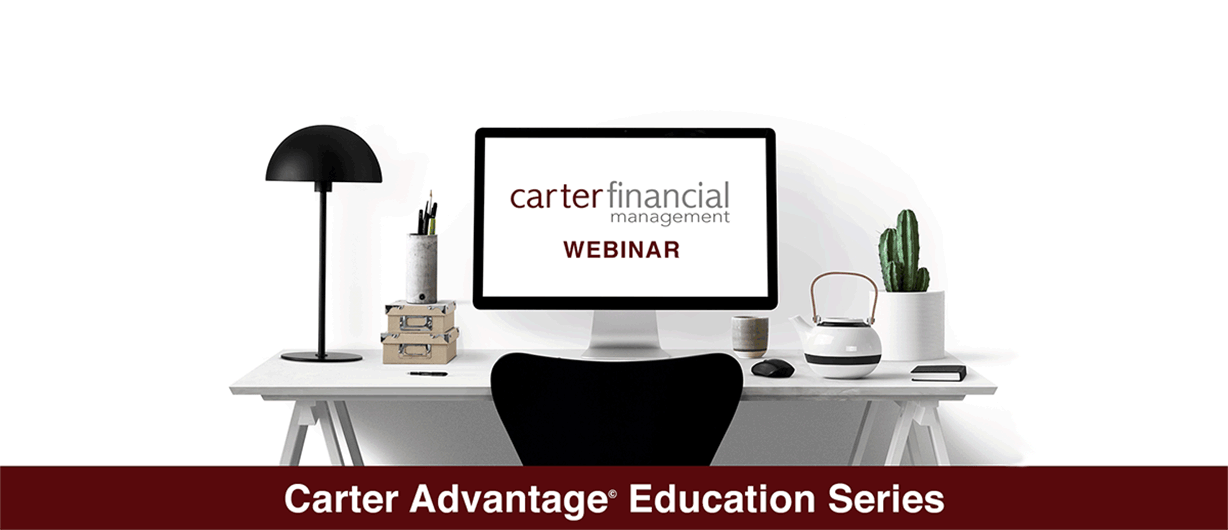 Please join us for a timely presentation by
Cozy Wittman
with:
Education and Partnerships
College Inside Track
on:
Thursday, February 17, 2022
12 noon to 1 p.m.
College is now the second largest purchase most families make in their lifetime, but the application process is more complex and less transparent than it has ever been.
Carter Financial Management is excited to bring you a presentation with Cozy Wittman from College Inside Track. She will address the most common mistakes families make when selecting a college, myths about financial aid, the impacts of COVID and FAFSA changes on the college search process, and how to help your student find a school that fits them well.
The presentation will also answer these common questions:
Should you invest in an SAT/ACT prep course? If so, when should the classes be taken? Are these tests even relevant anymore?
How important are Advanced Placement classes?
What's the most effective way to tour a college? How to begin the process?
How do you choose a college when the student has no idea what they want to study?
Cozy Wittman
Education and Partnerships, College Inside Track
At College Inside Track, Cozy Wittman runs both the parent events and professional development training for those who work with families with high school students. She speaks nationally about college search, training financial and other professionals.
As a mother of five children with very different college goals, Cozy is excited to connect with organizations and families interested in learning more about the complex college process.