Have You Heard About NFTs?
A non-fungible token (NFT) is a non-interchangeable unit of data that is stored on a digital ledger, or blockchain. It is unique and can be sold or traded. Think of it like a one-of-a-kind digital trading card. Anyone can view the image, but built-in authentication gives collectors proof of ownership, and for a "cool" NFT – bragging rights.
A NFT can be anything, but lately there has been a lot of press around NFTs that are digital art – created from code that only exists on the internet. Buyers sometimes pay big dollars to obtain a popular NFT. Recent headlines cover sales of CryptoPunks (pixelated faces including zombies, apes and aliens,) Pudgy Penguins, Cool Cats or even cartoon primates called Bored Apes that are both "art" and a membership to a collector group. Ten thousand unique Bored Ape Yacht Club images sold within a day of launch, bringing in over $2 million. The collection has since spiraled in value, with a "cheap" ape today selling for over $10,000.
NFTs have quickly become very popular with collectors – one sold for over $90 million last December. The values are so eyebrow-raising that many wonder whether NFTs are a cultural phenomenon or just another Beanie Baby type get-rich-quick scheme, destined to come crashing down.
The profitability of some NFT sales seemed so outrageous that one Dallas developer decided to create something rather absurd, then use the proceeds to benefit others. The project was named Rainbow Rolls – and last October, toilet paper NFTs hit the market. A portion of the proceeds is earmarked for erasing medical debt.
*Any opinions are those of the author and not necessarily those of Raymond James. The information contained in this report does not purport to be a complete description of the securities, markets, or developments referred to in this material. There is no assurance any of the trends mentioned will continue or forecasts will occur. Any information is not a complete summary or statement of all available data necessary for making an investment decision and does not constitute a recommendation. Investing involves risk and you may incur a profit or loss regardless of strategy selected. Past performance is not indicative of future results.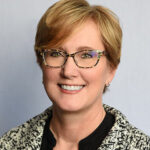 Becky has been a CFP® professional for over 30 years and has focused her career on helping companies build successful, customer-focused businesses. She has special expertise in financial planning, insurance and mortgage strategies for the retirement marketplace.