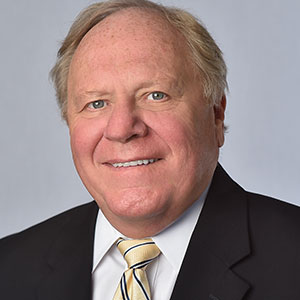 Senior Vice President, Carter Financial Management
Professional
Bob joined Carter Financial Management in 1988 after a 20-year career in executive financial management. He and his son, Joel C. Berg, CFP®, work together specializing in the needs of the corporate executives, business owners and individuals planning for or living in retirement.
Bob is currently serving as a member of the Dallas Diocese Education Endowment Trust and is Chairman of its Investment Committee. He is a retired board member of The Catholic Foundation of Dallas. Bob served as past president and chairman of the board for the Dallas/Fort Worth Chapter of the International Association for Financial Planning (IAFP), at the time the largest association of financial planners in the country. He has also served on the board of the Dallas Chapter of The Institute for Certified Financial Planners.
As a strong supporter of financial literacy, Bob has presented continuing education workshops including Asset Allocation and Portfolio Management, The Basics of Financial Planning and Small Business Planning.
Service
Active in civic and church activities, Bob is on the board of the Dallas Diocese Education Endowment Trust and was a trustee of The Catholic Foundation of Dallas. He also served on the board of the Children's Oral Health Foundation, as well as serving as president of a YMCA chapter, a Little League baseball association, and president of the North Dallas/Park Cities Kiwanis Club.
Awards
Carter Financial Management has been named to D Magazine's list of Top Wealth Managers in Dallas every year since 2015 1.
Education
A graduate from Northland College with a degree in Business Administration, Bob holds the advanced credential "Investment Management Consultant"2, demonstrating his knowledge of planning solutions for high-net-worth individuals.
2 Completed the Raymond James Institute of Investment Management Consulting Program. Raymond James does not offer tax or legal advice. You should discuss any tax or legal matters with the appropriate professional.